Surprise Pack: 3 Assorted Small Flax Seed Hot/Cold Packs: Microwaveable Hot / Cold Packs
Sew Colorful Designs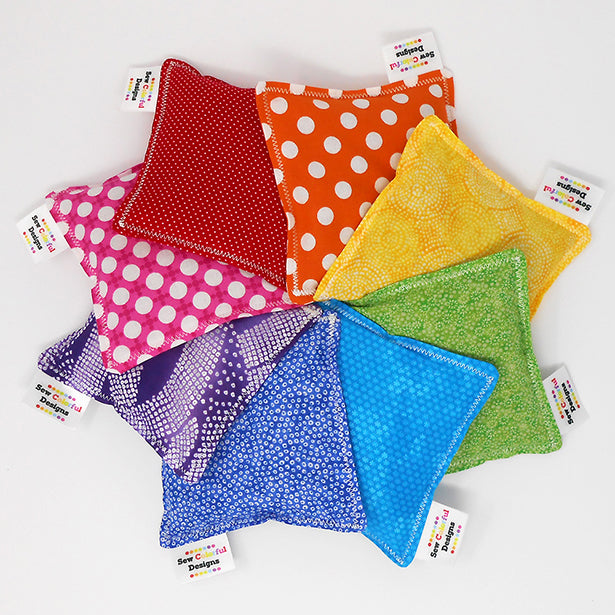 Surprise Pack: 3 Hand-made Assorted Small, 5" X 5", Hot/Cold Packs
This is a special deal that gives you the best of both worlds. You get the high quality products that Sew Colorful Designs is known for and you get to save money, win-win!
 After being in the hot/cold pack business for over 3 years and selling over 2,000 willy pads, I have over 1,000 smalls (5" X 5") pre-cut and ready to be made into your favorite packs. The "Bundle 3 Pack" size I currently offered, retails for $20, but this surprise pack is a great deal at $15.
 I have hundreds of different prints available and I will select the fabrics that best match your chosen theme.
For Her: Assorted floral and geometric prints in feminine colors
For Him: Assorted geometric and novelty prints in masculine colors
For Girls: Assorted novelty and character prints in feminine colors
For Boys: Assorted novelty and character prints in masculine colors
Animals: Assorted animal prints
Novelty: Assorted novelty prints
You can browse through my shop to get a better idea of the types of prints I offer.
Don't let the attractive design fool you, doubling as a warm compress and cold compress, these  hot/cold packs are built for durability. Double-sided with the same fabric and double-stitched for added strength, it's made to go in and out of the freezer and microwave, and can easily take rough handling from children. In fact, it's a perfect "boo boo pack" for kids' bumps and bruises or heat it up to help a little one calm down to sleep. 
It can be used to relieve achy pains, headaches, soreness, tension, cramps, sinus pressure, muscle aches, stress, boo-boos, and a multitude of other needs....
Each pad is handmade and filled with golden flax seed and and can be scented with lavender, peppermint, rose or left unscented.
Lavender has healing properties that promote a feeling of calm and relaxation. 
The refreshing nature of Peppermint relieves stress and clears the mind from mental exhaustion.
Sweet and floral, Rose fragrance helps calm nervous tension.
Golden Flax Seed is much more durable and pliable than other fillers, allowing you to mold the bag easily to any body part and is much softer than corn or rice, which can become harsh. By using flax seed, its outer shell doesn't emit the "food" odor that rice and other dry products do over time. The seeds also stay warmer/colder longer. Flax Seed is 30-40% oil, which remains inside the seed to be warmed again and again. Most grain products lose their ability to retain heat as the water cooks out of the grains.
 Keep your pad in the freezer for an easy to grab ice pack, then when needed warm, microwave for 30 seconds for a quick heating pad that will stay hot for approximately 30 minutes. Instructions included in package.

Handmade item
Materials: cotton quilting fabric, thread, dried lavender, dried peppermint leaves, dried rose petals, and food-grade golden flax seeds
**Please note that the pictures shown are just examples of the prints available**