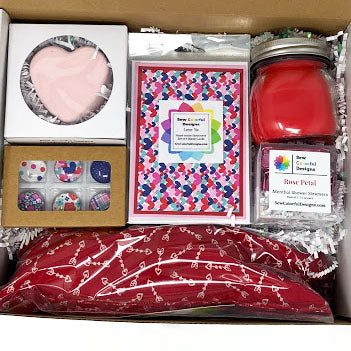 Love Ya: Deluxe Gift Box Collection
Save time and money while getting the perfect gift!
Sew Colorful Designs Deluxe Gift Boxes offer a little bit of all the product lines SCD has to offer and are a deal with FREE SHIPPING!
Each product in this box has been carefully selected to complement one another and create a coordinated theme.
The Love Ya Box is the perfect sweet treat for Valentine's Day, an anniversary, or just because... you and the recipient won't be disappointed.
In each box you will receive the following items:
1 Strawberry Champagne Fizzy Heart Bath Bomb (photo #4)
1 Love Ya Set of 6 Color Pop Dot Magnets (photo #5)
1 Love Ya Set of 6 Blank Notecards with Matching Envelopes (photo #6)
1 Rose Petal Gelato: Hand-Poured 7.5 oz Soy Blend Candle (photo #7)
1 Rose Petal: Set of 2 Menthol Shower Steamers  (photo #8)
1 Love Shot: Large (5" X 14") Unscented Flax Seed Hot/Cold Pack (photo #9)
All of this comes packaged in a white, top fold box with Velcro closure that measures 12" X 10" X 4". These products are surrounded with iridescent white crinkle paper for decoration and security during shipping.