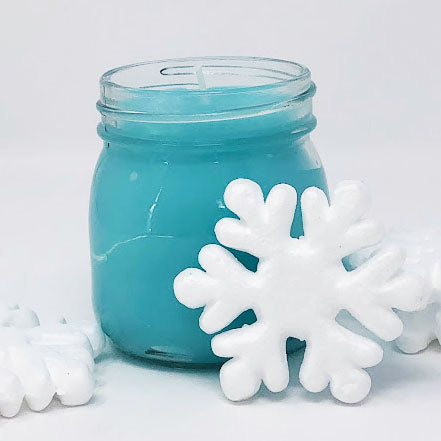 Jack Frost: Vanilla and Peppermint

Hand-Poured 7.5 oz Soy Blend Candle
This aqua Jack Frost candle fragrance is a cool, wintery mix of peppermint, eucalyptus and vanilla that will stimulate and refresh your senses. It is very similar to the popular Yankee Candle* fragrance with the same name.
After thorough wax and wick testing, I have decided to make all my candles with a Soy/Paraffin Blended Wax and all natural fiber cotton wicks. 
The blended wax gives you the best of both worlds, the clean burning and longevity of a soy candle and the scent throw and color vibrancy of a paraffin candle. The cost is a little more, but I believe in using the best supplies and offering the highest quality products to my customers. I also use a 100% cotton wax dipped wicks, to create the perfect balance in melt pools and scent throws.
Each candle is made in a small batch and is hand-poured into 10 oz "mason" like jar that measures: 3" wide X 3.5" tall. See Photo #5
The candle itself is approximately 7.5 oz of wax and provides approximately 40-50 hours of burn life. For optimum scent throw, candles should not be burned for more than 4 hours at a time and the wick should be trimmed to 1/4" before relighting.
Now the official candle disclaimer I have to include for legal reasons... but the gist is "It's a candle - don't be a dumb-dumb, it could catch things on fire."
This warning label is attached to the bottom of  every candle in case you forget :D
To prevent Fire and Serious Injury never leave burning candle unattended. Keep out of reach of children, pets, and flammable materials. Candle top will be hot when candle is lit. Allow to cool before relighting, Burn on heat-resistant surface.