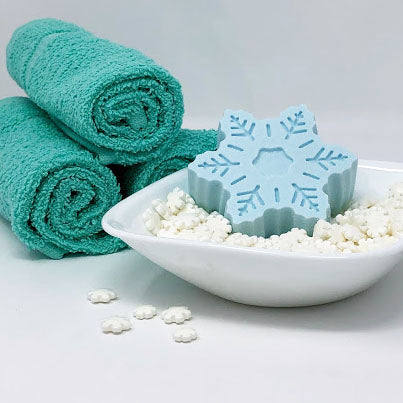 Jack Frost: Fizzy Snowflake Bath Bomb
Sometimes life just calls for EXTRA!
This bath bomb can help make the day seem just a little less stressed and provide a little bit of fun. Makes a great gift for yourself or someone you want to pamper. These bath bombs also make fun and easy party/shower favors.... 
Jack Frost – A crisp clean peppermint aroma with hints of vanilla bean
 Each bath bomb is hand-crafted using the highest quality ingredients and measures approximately 2.75" X 2.75" X 1.25"
Citric Acid and Baking Soda to get the fizz
Sodium Lauryl Sulfoacetate which is derived from coconut and palm oils to create a rich lather that removes surface oil, dirt and bacteria which out drying out skin and hair.
Cocamidopropyl Betaine comes from coconut oil and is used as a foam booster.
Various Essential oils are used for scent and cosmetic grade Mica Powders used for color - making sure not to stain your tub.

To use, simply drop the bath bomb into the tub and it's colors and fragrance will appear.
Each bath bomb weighs approximately 4 oz and is packaged in a 4" square box with white iridescent shredded paper for gift giving or safe keeping until needed. 

They may smell yummy, but bath bombs are cosmetic products --- Do not eat them!
Also please supervise use with children and don't use for pets.