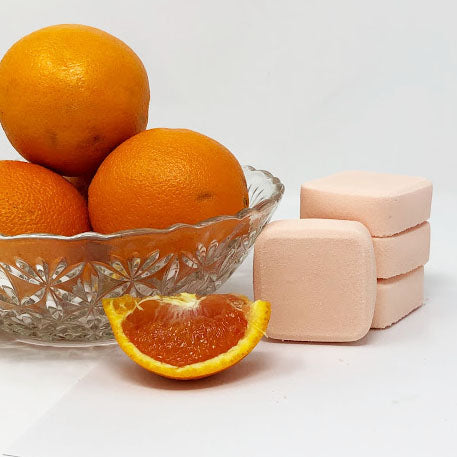 Orange Zest: 2 Pack Menthol Shower Steamers
Sometimes life just calls for EXTRA!
These shower steamers can help make the day seem just a little less stressed and provide a little bit of fun. Makes a great gift for yourself or someone you want to pamper. They also make fun and easy party/shower favors.... 
Orange - a sweet, sugary, citrusy scent
Menthol - Refreshing mint scent
Each shower steamer is hand-crafted using the highest quality ingredients and measures approximately 2" X 2" X 1"
Citric Acid and Baking Soda to get the fizz and release the scent
Corn Starch is a binding agent so your steamer doesn't crumble
Menthol Crystals provide that refreshing mint aromatherapy
Various Essential oils are used for scent and cosmetic grade Mica Powders used for color - making sure not to stain your tub

To use, simply place your shower steamer on the floor of your shower out of the direct spray and soon your shower will be filled with an aromatherapy experience.
Each steamer weighs approximately 2.3 oz and measures 2" square. They are wrapped in foil and packaged in a clear acrylic box with white iridescent shredded paper for gift giving or safe keeping until needed. 

They may smell yummy, but shower steamers are cosmetic products --- Do not eat them!
Also please supervise use with children and don't use for pets.