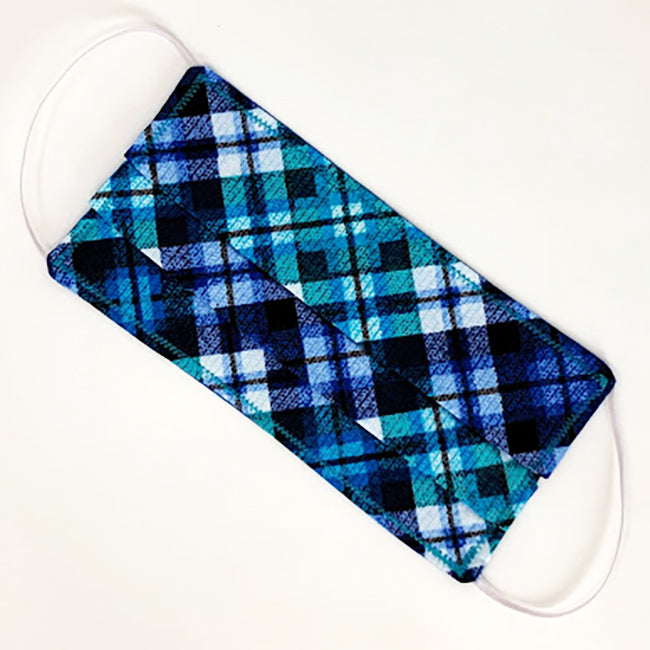 Cloth Face Mask: Mad Plaid
This Face Mask is made using 3 layers of protection; 2 layers of 100% cotton (recommended by the CDC)  and a layer of medium weight interfacing to help stop the spread of germs.  It includes 2 different pattern fabrics to easily identify an inside and outside.

It is triple stitched for added durability and completely washable for continued use. It includes 1/8" white elastic loops to secure over the ears. This face masks measure 4" X 8" when closed flat and extends up to 7.5" X 8" when opened for full coverage of your nose and mouth. It is an adult one size fits all.

* Back lining fabric may vary from photo depending on availability, it will be similar* 
 Cloth Face Masks can help... They aren't a guarantee for prevention, but they are a "better than nothing" approach in dealing with the world around us. They have also become mandatory in many states hoping to reopen after the Covid-19 quarantine.
CDC ON HOMEMADE CLOTH FACE COVERINGS
CDC recommends wearing cloth face coverings in public settings where other social distancing measures are difficult to maintain (e.g., grocery stores and pharmacies), especially in areas of significant community-based transmission.
CDC also advises the use of simple cloth face coverings to slow the spread of the virus and help people who may have the virus and do not know it from transmitting it to others.  Cloth face coverings fashioned from household items or made at home from common materials at low cost can be used as an additional, voluntary public health measure.
Cloth face coverings should not be placed on young children under age 2, anyone who has trouble breathing, or is unconscious, incapacitated or otherwise unable to remove the mask without assistance.
The cloth face coverings recommended are not surgical masks or N-95 respirators.  Those are critical supplies that must continue to be reserved for healthcare workers and other medical first responders, as recommended by current CDC guidance.
SHOULD CLOTH FACE COVERINGS BE WASHED OR OTHERWISE CLEANED REGULARLY? HOW REGULARLY?
Yes. They should be routinely washed depending on the frequency of use.